World Citizenship and the Role of Education in Transition to Global Situations: One World One Homeland
Keywords:
Social progress, education, 21st-century skills, citizenship concept, world citizen
Abstract
In the 21st century, the educational system plays a crucial role in promoting social progress and development. As the world becomes more interconnected with the help of education, the concept of a single global community, or "one world, one homeland," becomes more relevant as world citizenship. This article provides a comprehensive literature review of the current state of education and its potential to impact social progress. The study highlights the challenges faced by teachers in cultivating knowledge, values, and innovative teaching methods in students. The article explores the impact of the internet and instant communication networks on education and how they have changed the nature of ethnic and national identities in societies during globalization. It also discusses the importance of developing 21st-century skills, including critical and creative thinking, information, communication and civic literacy, global awareness, and cross-cultural skills in students. The findings of the research suggest that the education system needs to focus on promoting and preparing world citizens who are equipped with the necessary skills and values to contribute to the betterment of society. The article concludes that it is crucial to develop a citizenship concept from societies to the world perspective and to support students in developing their skills and abilities to help them meet the challenges they will face in society.
Downloads
Download data is not yet available.
References
Adjibolosoo, S. (2017). A Human Factor-Based Education for Citizenship, Democratic Governance, and Nation Building. Review of Human Factor Studies. Vol. 23 Issue 1, p1-39. 39p.
Bajunid, I.A. (2008). The Building of a Nation and Ideas of Nationhood: Citizenship Education in Malaysia. In: Grossman, D.L., Lee, W.O., Kennedy, K.J. (eds) Citizenship Curriculum in Asia and the Pacific. CERC Studies in Comparative Education, vol 22. Springer, Dordrecht. https://doi.org/10.1007/978-1-4020-8745-5_8
Berlah, R. (1996). Citizenship education: Australian and Singapore perspectives. Australian Journal of Teacher Education, 21(2), 1–15.
Broadfoot, P. M. (2002). Structure and agency in education: The role of comparative education. Comparative Education, 38,(1), 5-6. https://doi.org/10.1080/03050060120103810
Calogiannakis P., (2000). Comparative Education in the English Scientific Press, contemporary trends and perspectives, in: Josef Bouzakis (ed.), Historical-Comparative Perspectives, Dediceted to Andreas Kazamias, Athens, Gutenberg pp.195-223. (In Greek)
Chalari, A. (2012). The Causal Powers of Social Change: the case of modern Greek society. GreeSE, (64), 1-38.
Curriculum Development Council (CDC) (2000). Learning to learn: The way forward in curriculum development. Hong Kong: Hong Kong Government Printer.
Crick, B. & Porter, A. (1978). Political Education and Political Literacy, London, Longman.
Davies, L. (2006). Global citizenship: abstraction or framework for action? Educational Review, 58:1, 5-25, 10.1080/00131910500352523
Delors, J. (1996). Learning: The treasure within. Paris: UNESCO.
Ginn, Mc. (1996). Education, Democratization, and Globalization: a Challenge for Comparative Education, in: Comparative Education, vol.40/4(341-357).
Hu, J. (2003). Shuli shehuizhuyi rongru guan [Build up socialist perspectives of glory and shame]. People's Daily, 5 March.
Kanagaratnam, T. (2011). (Unpublished doctoral working drafts.) National Institute of Education, Nanyang Technological University, Singapore.
Kennedy, K.J., Lee, W.O., & Grossman, D. (Eds.). (2010). Citizenship pedagogies in Asia and the Pacific. Dordrecht & Hong Kong: Springer & University of Hong Kong, Comparative Education Research Centre.
Kurt, I. (2015). Education and Social Reproduction in Schools. European Journal of Social Sciences Education and Research Sep – Dec 2015 Vol.5, Nr. 1
Kymlicka, W. (1995). Multicultural Citizenship, Clarendon Press, Oxford.
Lee, W.O. (2008). Tensions and contentions in citizenship curriculum in Asia and the Pacific. In D.L. Grossman, W.O. Lee, & K.J. Kennedy (Eds.), Citizenship Curriculum in Asia and the Pacific (pp. 215–231). Dordrecht & Hong Kong: Springer & University of Hong Kong, Comparative Education Research Centre.
Lee, W.O., & Fouts, T.F. (Eds.). (2005). Education for social citizenship: Perceptions of teachers in the USA, Australia, England, Russia and China. Hong Kong: Hong Kong University Press.
Merryfield, M., & Duty, L. (2008). Globalization. In J. Arthur, I. Davies, & C. Hahn (Eds.), Handbook for citizenship and democracy (pp. 80–91). London: SAGE.
Moisi, D. (1999). Universal truths, Financial Times, Monday 27 September.
Osler, A.Y., & Starkey, H. (2001). Citizenship Education and National Identities in France and England: Inclusive or exclusive?, Oxford Review of Education, 27:2, 287-305, DOI: 10.1080/03054980124800
Parker C. W., Ninomiya, A., Cogan, J. (1999). Educating World Citizens: Toward Multinational Curriculum Development. American Educational Research Journal, Summer 1999, Vol. 36, No. 2, pp. 117-145
Steutel, J. W., & de Ruyter, D. J. (2019). Wat is opvoeding? Een conceptuele analyse. Pedagogiek, 39(1), pp. 53-78.
Ter Avest, I., Kurt, I., Gurlesin, O., & Alasag, A. (2019). Normative Citizenship Education in Plural Societies. International Conference, Religion, Democracy and Citizenship, 10-13 October 2019 in Würzburg, Germany
Tudball, L. (2004) Developing young global citizens: a key goal for the future of civics and citizenship education, Invited address to National Discovering Democracy Forum, National Museum, Canberra, May 17, 2004.
Veugelers, W. (2015). Burgerschapsvorming in het Nederlands onderwijs. Enschede: Stichting Leerplan Ontwikkeling.
Young, I. M. (1989). "Polity and Group Difference: A Critique of the Ideal of Universal Citizenship." Ethics 99 (2): 250–274.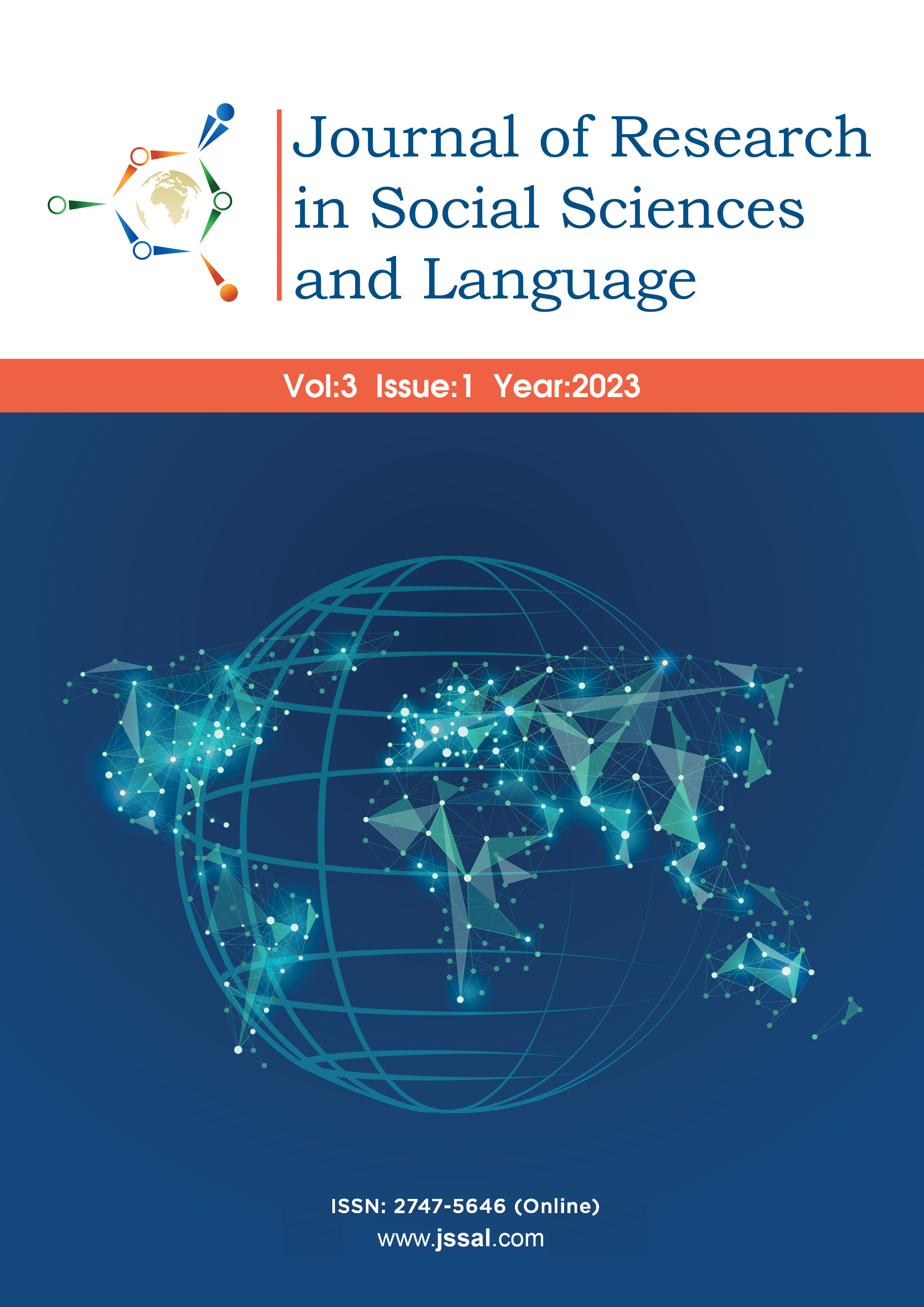 Downloads
How to Cite
Kurt, I. (2023). World Citizenship and the Role of Education in Transition to Global Situations: One World One Homeland. Journal of Research in Social Sciences and Language, 3(1), 70–80. Retrieved from https://jssal.com/index.php/jssal/article/view/93
صندلی اداری
سرور مجازی ایران
Decentralized Exchange
Section
Table of Contents
License
Copyright (c) 2023 Ibrahim Kurt
This work is licensed under a Creative Commons Attribution-NonCommercial 4.0 International License.
The work is provided under the terms of the Public Offer and of Creative Commons public license Attribution-NonCommercial 4.0 International (CC BY-NC 4.0). This license allows unlimited persons to reproduce and share the Licensed Material in all media and formats. Any use of the Licensed Material shall contain an identification of its Creator(s) and must be for non-commercial purposes only.